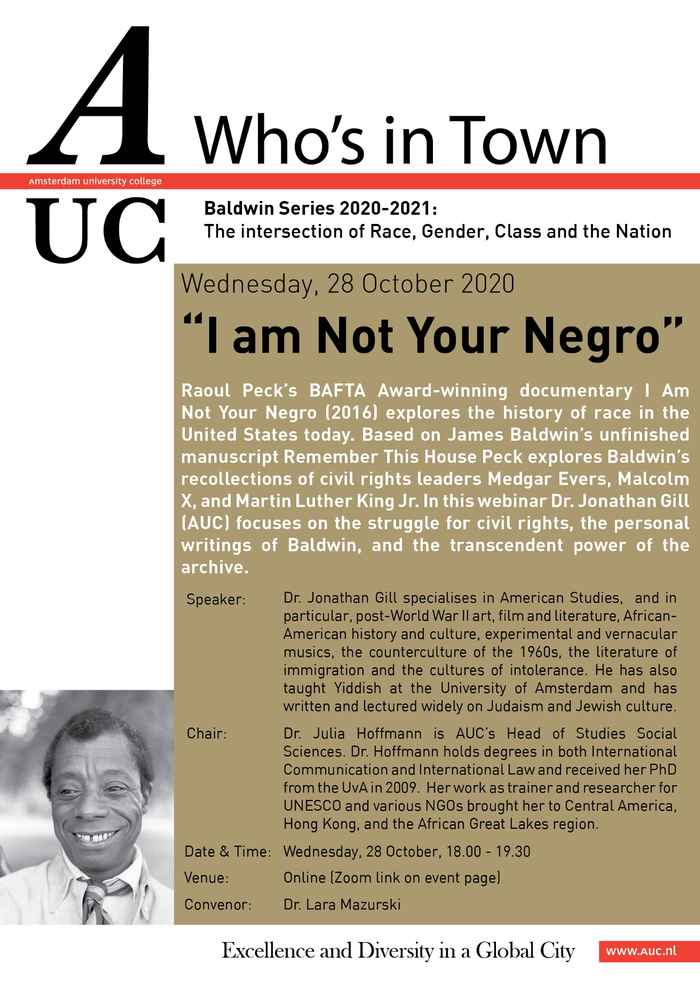 Abstract:
Raoul Peck's BAFTA Award-winning documentary I Am Not Your Negro

(2016) explores the history of race in the United States today. Based on James Baldwin's unfinished manuscript

Remember This House

Peck

explores

Baldwin's recollections of civil rights leaders Medgar Evers, Malcolm X, and Martin Luther King Jr. In this webinar Dr. Jonathan Gill (AUC) focuses on the struggle for civil rights, the personal writings of Baldwin, and the transcendent power of the archive.
| | |
| --- | --- |
| Speaker: | Dr. Jonathan Gill specialises in American Studies, and in particular, post-World War II art, film and literature, African-American history and culture, experimental and vernacular musics, the counterculture of the 1960s, the literature of immigration and the cultures of intolerance. He has also taught Yiddish at the University of Amsterdam and has written and lectured widely on Judaism and Jewish culture. His latest book, Hollywood Double Agent: The True Tale of Boris Morros (2020) tells the story of a film producer who was a Russian double agent and a major figure in the 1930s and 40s. |
| Chair: | Dr. Julia Hoffmann is AUC's Head of Studies Social Sciences. Dr. Hoffmann holds degrees in both International Communication and International Law and received her PhD from the UvA in 2009. Her work as trainer and researcher for UNESCO and various NGOs brought her to Central America, Hong Kong, and the African Great Lakes region. Before joining AUC, she worked for international development organization Hivos where she led the creation of data-based advocacy programmes to increase transparency and accountability across Latin America, South East Asia, and Eastern and Southern Africa. |
| Zoom link: | Access the lecture. |
| Meeting ID: | 899 102 6403 |
| Zoom password: | BaldwinAUC |
| Convenor: | Dr. Lara Mazurski |