Open Days
Learn more about AUC's academic programme, admissions and student life. AUC will be present to answer all your questions at the Bachelor Day of the UvA (8 March 2014). The next Open Day at AUC will take place in November 2014.
Learn more about AUC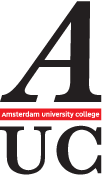 Applications for September 2014
Do you want to start your AUC studies in September 2014? There are still a few places available. Please apply before 25 March so that we can process it in time for you to be selected and invited to our exciting Admissions Days in April!
How to apply
Who's in Town Lectures
On a regular basis AUC organises small-scale seminars by inviting interesting guest speakers "who are in town" for presentations and debates with members of the academic community. On 27 March, AUC will host a lecture by Paul F. Levy and Farzana Mohammed on 'How to negotiate your first Job'- a true lesson on negotiating principles. You are all cordially invited to attend the lecture.
View all upcoming Who's in Town Lectures
TEDxAUCollege conference
Sketches of a New World
Check out the @TEDxAUCollege twitter account and Instagram for live coverage!
Read more