Apply to AUC
Looking for a Bachelor programme where you can acquire the academic skills, knowledge and intellectual tools that will help you to be successful in your future studies or career of choice? Applications are now open for September 2019!
How to apply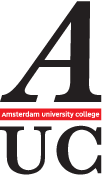 Jeugdlab at Science Park Open Day
On Saturday, 6 October, Amsterdam University College once again turned over the building to student initiative Jeugdlab for the Amsterdam Science Park Open Day. The Open Day at Amsterdam Science Park is a joint venture between AMOLF, ARCNL, AUC, CWI, Nikhef, SURFsara and the UvA Faculty of Science.
Read more
Local Conference of Youth the Netherlands at AUC
From 19 -21 October, AUC students and youth activists from around the world are organising the first Local Conference of Youth (LCOY) the Netherlands at the AUC building. The LCOY is strongly linked to YOUNGO, the official youth-constituency to the United Nations Framework Convention on Climate Change (UNFCCC).
More information.
AUC lecturer guest edits Intercultural Education
Dr. Martha Montero-Sieburth was recently invited to be the guest editor of the academic journal 'Intercultural Education' titled "Dialogues from the Global South to the Global North: Case Studies of Second Generation Youth and the Efficacy of Policies, Research and Practices in Intercultural Education". AUC alumna Domiziana Turcatti also contributed to the publication.
More information
Register for the next AUC Open Day on 17 November
Register now