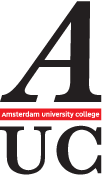 AUC students visit CERN
On Friday, 20 January 2017, a group of 14 students from AUC visited CERN, the largest particle accelerator in the world, in Geneva, Switzerland. Part of the 300-level course Mathematical Methods in Physics, AUC alumna Emma Winkels joined the group to give a tour of the facility.
Read more.
Apply to AUC
Looking for a Bachelor programme where you can acquire the academic skills, knowledge and intellectual tools that will help you to be successful in your career of choice? Applications for September 2017 are now open!
How to apply
Study abroad stories: Morocco
AUC students Johanna Ramaer (Class of 2017, Social Sciences) and Andrea Haefner (Class of 2017, Social Sciences) both spent the Autumn 2016 semester studying abroad at the École de Gouvernance et Economie in the city of Rabat, Morocco. Johanna and Andrea reflected on adapting to cultural differences, their travels and discuss what they learned during their time in Morocco.
Read their stories.
AUC Scholarship Fund
The AUC Scholarship Fund (ASF) supports excellence and diversity by facilitating access to the AUC programme for talented low-income and minority students through both ASF Scholarships and ASF-DAP.
Read more about the ASF