Class of 2016 graduates
The Graduation Ceremony for the Amsterdam University College Class of 2016 took place on Tuesday, 28 June, at Koninklijk Theater Carré in the heart of Amsterdam. With more than 225 graduates, the ceremony for the Class of 2016 was the largest in AUC's history and featured a mix of speeches, performances by students and the conferring of degrees.
Read the full event report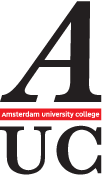 AUC Introduction Week: August 2016
The AUC Introduction Week for new students who have accepted their offer to attend Amsterdam University College will be taking place from 29 August - 2 September 2016!
Read more about the programme and activities
Applications
Looking for a Bachelor programme where you can acquire the academic skills, knowledge and intellectual tools that will help you to be successful in any career that you choose? Find out more about the AUC application process and upcoming deadlines.
How to apply
AUC Scholarship Fund
The AUC Scholarship Fund (ASF) supports excellence and diversity by facilitating access to the AUC programme for talented low-income and minority students through both ASF Scholarships and ASF-DAP.
Read more about the ASF
AUC study programme
Discover what a liberal arts and sciences education entails
Find out more