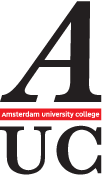 AUC Open Days
Curious about AUC? Visit us during an AUC Open Day or at one of the Bachelor Days of the University of Amsterdam or VU Amsterdam. The next AUC Open Day will take place on 12 November 2016!
AUC Open Days & Bachelor Day dates
Days of the Dead at AUC
Join educational anthropologist Dr. Martha Montero-Sieburth and her invited guests as they present a very special evening to celebrate the Days of the Dead at AUC! This uniquely Mexican tradition is being celebrated at AUC on 3 November, featuring a presentation on the significance of the Days of the Dead by Dr. Montero-Sieburth, the ceremonial building of an altar with ofrendas (offerings) and the sharing of typical Mexican cuisine.
Read more
Apply to AUC
Looking for a Bachelor programme where you can acquire the academic skills, knowledge and intellectual tools that will help you to be successful in your career of choice? Applications for September 2017 are now open!
How to apply
AUC Scholarship Fund
The AUC Scholarship Fund (ASF) supports excellence and diversity by facilitating access to the AUC programme for talented low-income and minority students through both ASF Scholarships and ASF-DAP.
Read more about the ASF