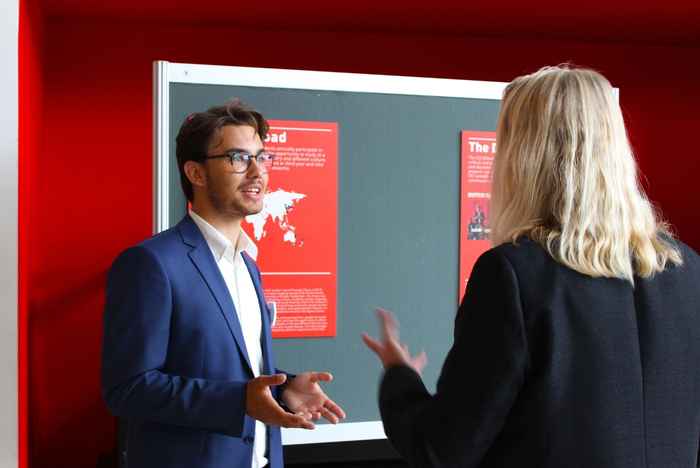 Presenting student research
The Capstone Forum (formerly known as the Capstone Seminar) is an annual event during which third-year AUC students showcase their capstone projects (Bachelor's theses). The capstone project is the culmination of students' time at AUC where they are encouraged to conduct independent research within their chosen area of specialisation.
Participating students will pitch their work at the start of each round and then they can discuss their topic, methods, analyses and conclusions in-depth at their market stand. Visitors are encouraged to join at the start of a round to hear which topics will be up for discussion and engagement, followed by time to visit stands from individual students to hear more about their work and questions raised by the pitch at the start.
Programme
The detailed programme can be found below.
10.00
Opening
10.15

Student Pitches pt. I

Francesca Giannella
Emiel Robben
Chaska Salazar Torres
Mirthe van Veen
Jannik Faierson
Marwa Afechkar
Liam Roberts
Daniela Morris Casas

10.35
Poster Market pt. I
11.15
Break
11.30

Student Pitches pt. II

Matthew Paul Gonzalez
Annemijn van Marle
John O'Halloran
Gilda Sadeghi
Freya Baker
Levin Stamm
Marcell Bárdos

11.50
Poster Market pt. II
12.30
Closing